Rest in peace,
Michael Jackson
.
See "
Michael Jackson, Pop Icon, is Dead at 50
," at the New York Times.
I actually own
The Wiz
. Michael Jackson singing "
You Can't Win
":
"You Can't Win," by Charlie Smalls



You can't win, You can't break even
And you can't get out of the game.
People keep saying, Things are gonna change
But they look just like
You're staying the same

You get in way over your head
And you only got yourself to blame
[Chorus:] You can't win Chile
You can't break even
And you can't get out of the game.

You can't win, The world keeps moving
And you're standing far behind
People keep saying, Things'll get better
(Just to ease your state of mind)
(So you lean back, and you smoke that smoke)
(And you drink your glass of wine)


[Chorus]



You can't win, you can't win no way
If your story stays the same
(You ain't winning) No, no
(But it's nice to see you. I'm awfully glad you came)
(Better cool it 'cause, It ain't about losing)
And the world has got no shame


[Chorus]



You can't win, You can't break even
Ain't the way it's supposed to be
(You'll be spending), No, no, (Your little bit of money)
While someone else rides for free
(Learn your lesson), ooh,
(Refuel your mind, Before some turkey blows out your flame)


[Chorus]



I freaking love this song: "
Don't Stop 'Til You Get Enough
"
I remember sitting in the back of the car with my little sister & cousin, singing along to MJ on the radio. He's a tragic figure in many ways, but there's no doubt he was an incredibly talented artist, and he left a profound mark on our culture.
Questlove (of the Roots) has posted some of my favorite tweets so far, he makes really good points. Check out his Twitter page here
@questlove
Excerpts below (to read them in order, start at the bottom):
aint never heard a peep about elvis as a 24 yr old dating a 14 yr old priscilla, or his drug problems or anything but him being a treasure.



im emotional now but i dont want the only american news source i watch talking about the controversial period.

elvis got revisionist media treatment. i expect the friggin same for my hero. lemme find out yall gonna paint this mofo as a freak cnn.

but i think its time we let him rest in peace and learn to separate the ART and the ARTIST. --that is the MJ i will forever remember.



that he will get due justice in all the press memorials and whatnot. i know he was mired in controversy the last decade of his life

not overwork myself to the point in which i can't even enjoy life anymore. im am devastated over this but we all have memories. i just hope
I don't think I really believe in the benefit of revisionist memory, at least not in a total historical way.
*On a personal level, I think maybe sometimes we all need to do it, in large & small ways, just to get by.
But I do believe in the power of empathy & forgiveness, whatever the truth is. (See "Worldview" segments at sidebar, especially
Dr. King
.) And I do believe that sometimes the art is not the artist. I think? I don't know. It's just sad. Maybe it's just that none of us are simple, and that includes the giants among us.
*
And another thing. I know it's inexcusable that I'm posting about MJ, but I haven't posted about what's going on in
Iran
yet. So I hope you'll forgive me. I've been sucked into the twittersphere, on that front. (See
#IranElection
.) The US media was hardly covering it at first, it seems. Twitter pushed the story. (See
#CNNFail
.)
Rest in peace,
Neda Agha-Soltan
. She was 26, just a tiny bit older than me, and she died just for standing up for her right to have her vote counted. She went to a protest, and she was shot to death. I've gone to lots of social & political gatherings, but I've always had this luxury, which Neda didn't have: I've never had to fear for my life. Whether it was a marriage equality rally, an Obama phone bank, a pro-choice meeting, or just voting, I never had to go knowing that it was not only possible, but
likely
that I'd be hurt. Neda Agha-Soltan knew the danger, her friends & family warned her, but she went anyway. Now her face has become the face of the struggle in Iran. Let's all remember her, and all the others around the world who have died and are dying in the name of justice.

Photo from the LA Times article "Family, friends mourn Neda, Iranian woman who died on video"
May truth & justice prevail in Iran, may peaceful protest win out. We're all connected, and I don't mean that just in some vague spiritual way. I mean that injustice anywhere echoes, and when people realize that & come together, amazing things can happen. See "
Social Networks Spread Defiance Online
," an article at the New York Times. (Also see "Worldview" segments at sidebar, especially
ubuntu
.)
*

And that reminds me: Rest in peace,
Dr. George Tiller
.
See "
Dr. Tiller's Important Job
," opinion piece at the New York Times.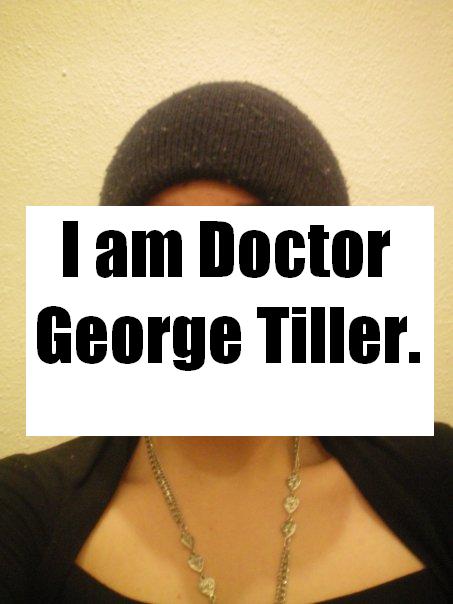 Photo from http://iamdrtiller.com/


I just want to say that I did want to post about Dr. Tiller earlier. But honestly, I felt kind of scared. I guess I feel guilty for letting that stop me.